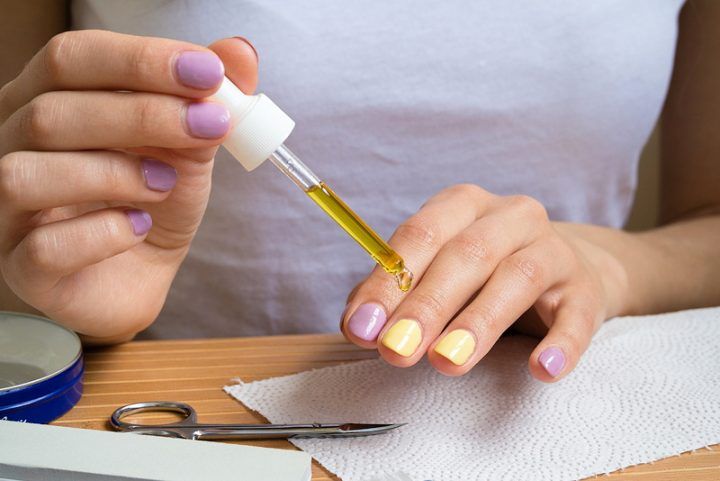 As a fully trained nail technician and educator, I pride myself on the care I take when providing a service to my clients and when teaching the students that attend my academy. One of the most important steps when completing a set of nails is the application of cuticle oil! And here's why…
In order to keep your nails in the best condition and to reduce lifting and any damage, you need to help with your proper nail care at home. Lasting nails are a result of a loyal partnership between the client and their nail technician.
Regular Care Will Prevent Problems:
A regular booking schedule is the key. This means refills every 2 – 4 weeks. Regular care is a must! It will eliminate overgrown enhancements, which could become top heavy and can then lead to damaging the natural nail bed. You may think your nail technician just wants to take more money from you but really they will want to make sure that no harm will come to that service she has worked very hard on and that no damage will come to those beautiful nail beds.
Please Oil Your Nails Daily:
 Cuticle oil is for your nails, what a conditioner is for your hair. It helps keep the nail vitamin enriched and hydrated and prevents cracking and drying-out. It is very important to apply a small amount of Cuticle Oil to your nails on a regular basis.
The First 48 hours:
In the first 24 to 48 hours after your nail enhancement application, the acrylic is still curing. Even though your new nails may feel strong, they do need to be treated with care. By being careful you will increase the strength, flexibility and toughness of the nail enhancement. You can help this process by applying Cuticle Oil 2 to 3 times in the first 24 hours followed by once a day after that. I recommend that you apply your cuticle oil when going to bed because when you sleep the oil has ample time to soak in and do its job. Cuticle Oil will vitamin enrich the nails and acts as a shock absorber protecting them against breakage.
Keep Your Nails Coated:
Coatings, from a 2 week polish to full enhancements, help to seal in the vitamins and moisture of daily conditioning and protect them from every day wear and tear. With multiple hand washing and sanitising throughout the day, oils and moisture are stripped away, leaving nails more open to cracking and breaking. Keeping nails coated will also help to prevent problems and keep nails healthy. It's a myth that nails 'need to breathe', the natural nail bed is made up of dead skin cells but they do need to be conditioned, cared for and protected.
There is only one cuticle oil that I use within my salon and that is NSI's Nurture Oil, and here's why! 
Nurture Oil Cuticle Oil is a Scientifically enhanced blend of 5 therapeutic emollients (including jojoba oil, soy, safflower, wheat germ, and grape seed oils) and vitamins C & E. It's the perfect finishing touch for any nail service, to pamper the skin around the nail.
Jojoba oil is extremely moisturising and closely resembles the oil our bodies produce naturally, so it calms skin with little threat of reactions. Grape seed oil is perfect for damaged or stressed tissues, possessing regenerative and restructuring qualities which allow better control of skin's moisture retention while aiding in skin cell renewal.
Nurture Oil Cuticle Oil is a scientifically enhanced blend of 5 emollients (jojoba, soy, safflower, wheat germ, and grape seed oils) and vitamins


C & E

Helps to prolong enhancements' durability and flexibility

Supplies cuticles with nourishment and lasting softness while aiding in skin cell renewal

Soft Grape Scent
I hope this information was helpful, it may explain why your nail technician always harps on about applying a cuticle oil lol! It's as much for their benefit as it is yours,
Thanks for reading,
Linda  🙂 x